along the seine river to the double-deck metal bridge…
This route, after the top of the world shoot in Trocadéro we'll walk down to the seine river by the debilly-port, and from there along the riverbank to the famous Bir-Hakeim bridge.
Morning is of course the best, as it will be less crowded, and if possible I'll get you the birds (let me know if you want birds)
Afternoon will give you more blue sky, and sometimes sunset colors, and much later … sparkling Eiffel tower!
It's quite a long walk (1,2 km), but very scenic with a lot of interesting spots for great pictures.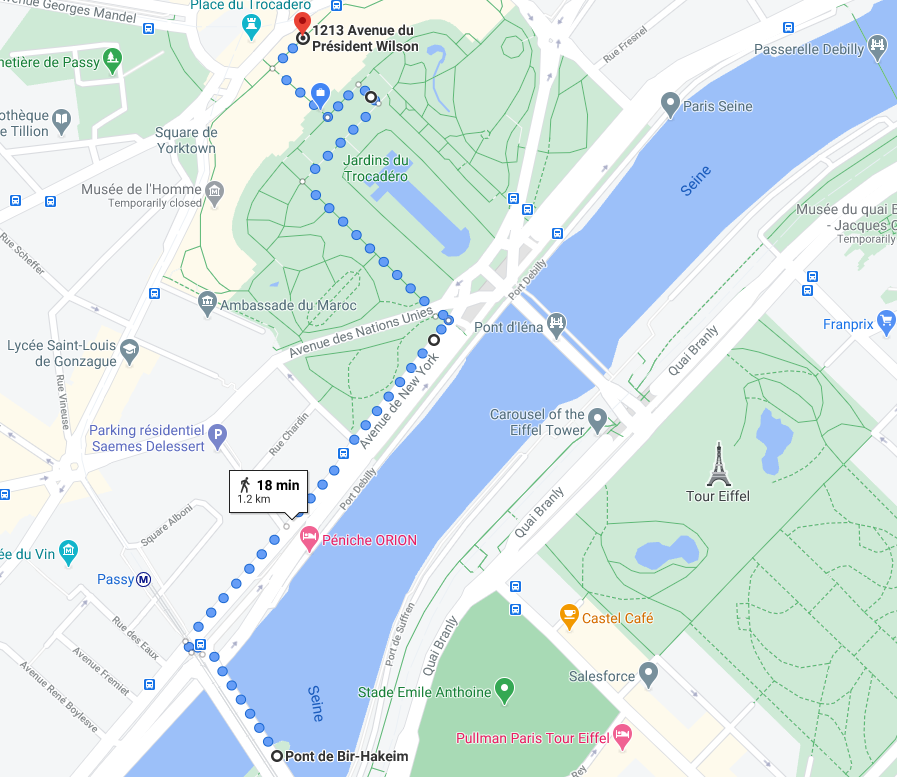 Options :
From trocadero to Birhakeim there are two choices, either we can walk down to the water-front on Debilly Port, or through the Avenue des Camoen.
Avenue des Camoens
Avenue des Camoens is a little de-tour on the way to Bir-Hakeim. It's a small alley with a view to Eiffel from between the buildings, giving it a more interesting frame. We'll pass through quaint backstreets, along stairways toward seine river.
If you want Camoens, take the longer session, because otherwise we wont make it!
---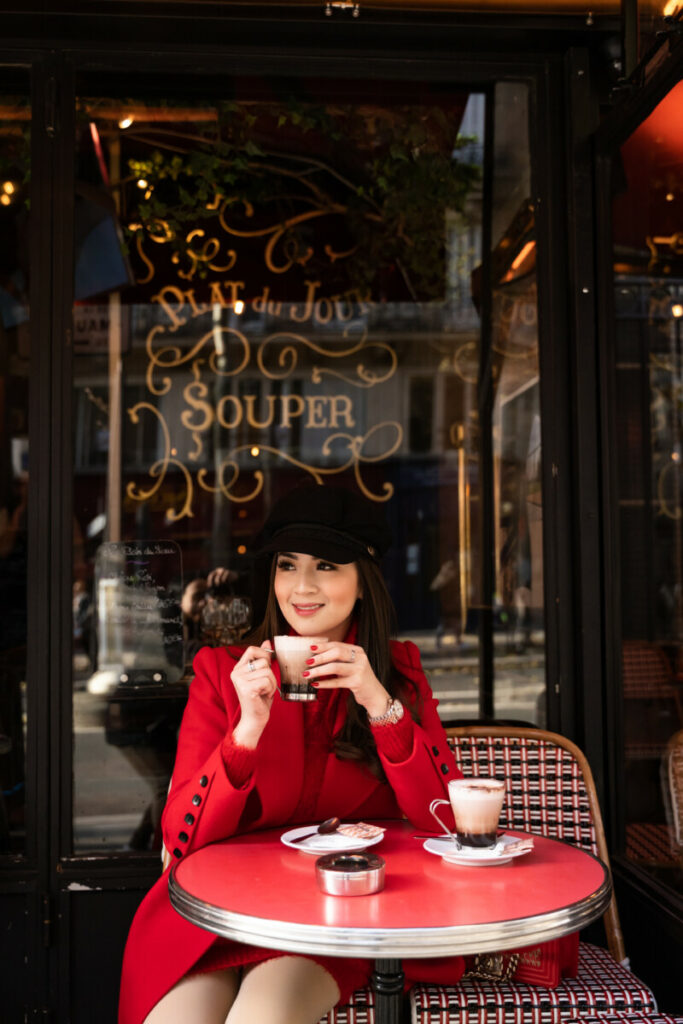 Parisien Cafe
Paris is also City of Café!
Let's pick a nicely decorated one, and hunt for that one and only spot worth fighting for.
There's no extra-charge for café photoshoot!
Just pick enough time so you can enjoy your time. Usually I suggest around extra 30 minutes at the end of the session (or before).
It's enough time for the walk, pick your seat, make orders, and by the time they arrive, I'll capture plenty of your memorable memories in my memory-card.
And then I'll leave you enjoying your café time.
---
Pick a date!
Which photo-session is really up to you.
To take nice pictures takes time, to enjoy the walk, and appreciate the surroundings. And it is your holiday in Paris. You've come all the way here, so might as well enjoy the photo session and the scenery.
And moreover, a photographer always take you to the best spots.

So here are some suggestions from previous sessions around this place :
1h30, we can pass debilly quickly and walk all the way to Bir-Hakeim, or take the metro which is just 2 stops, and I can take metro-shoots for you too.
2 hours, we can explore more the water-front of Debilly or walk through avenue des Camoens and take some nice pictures there.
If you want café shoot after, there are some nice café in BirHakeim. If you want café shoot it's better to reserve the time because extra-time is not always possible.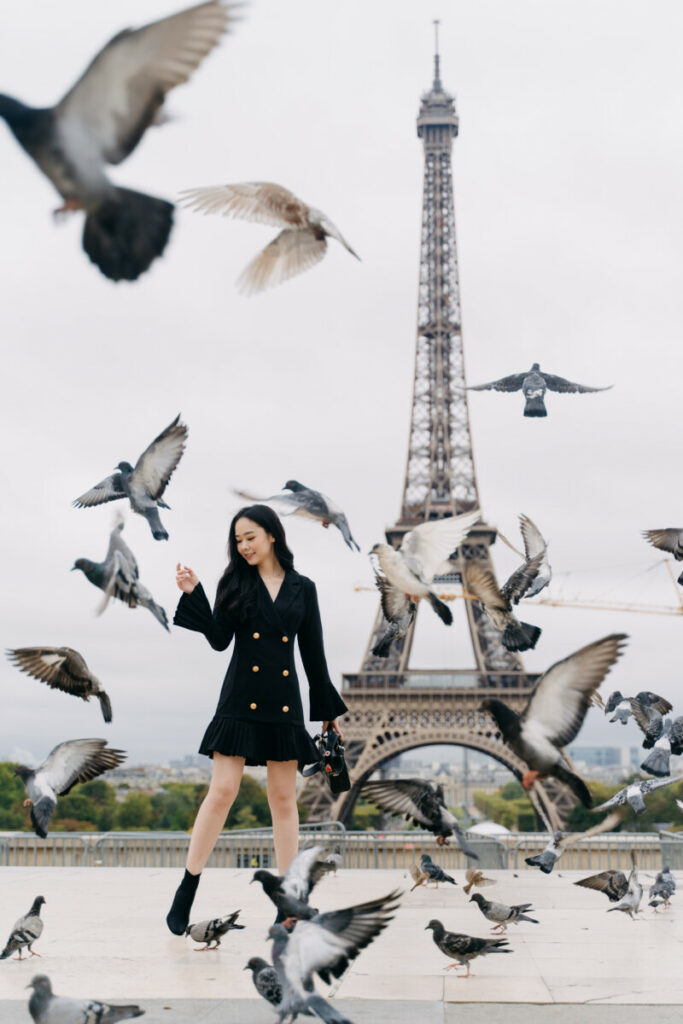 Birds-shoot!
If you want birds, take the early morning session.
These are not "trained" birds, I don't own them!
But there are tricks to get nice birds-shoot like that.
So it is not a promise, but again, get the early session, and let me know in advance if you want birds.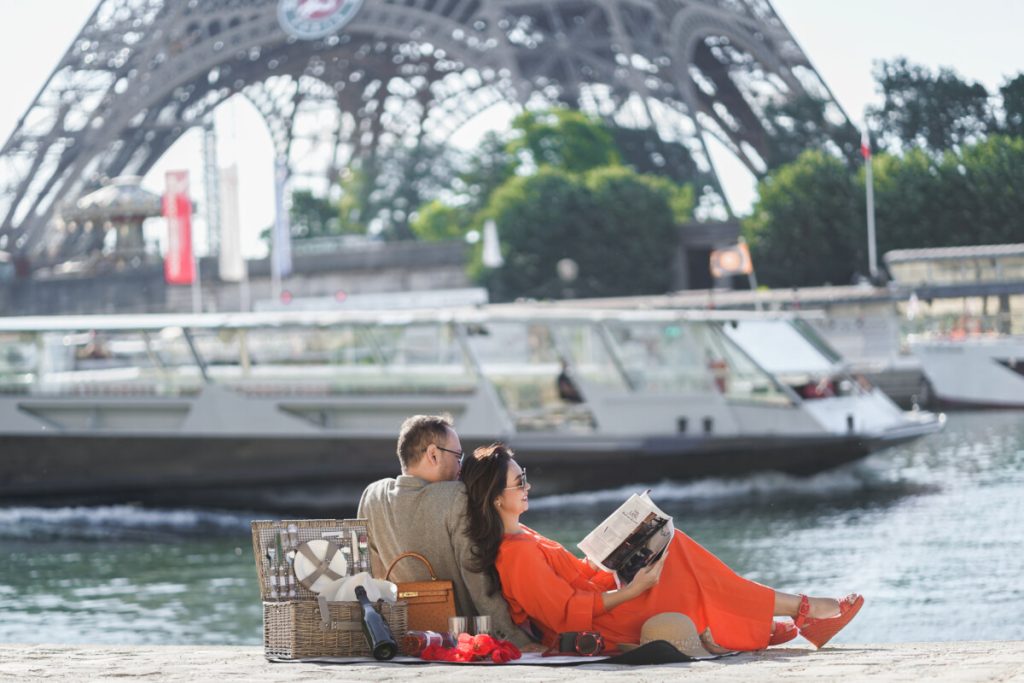 Picnic basket
I can bring picnic basket for the photoshoot, with real sandwich & drinks from a boulangerie (bakery) nearby.
After the photoshoot, I will leave you on that spot so you can continue to have lunch picnic.