Opera Garnier letaknya sangat dekat dengan Galeries Lafayette. Opera Garnier is very close to Galeries Lafayette. Gedung opera ini dibangun oleh Napoleon di puncak kejayaannya sebagai kaisar diseluruh Eropa, dan karenanya didekorasi dengan sangat mewah. Tangga, lorong dengan lampu gantung, semuanya dibangun dengan tujuan untuk mempesona siapapun yang masuk kedalammya. Dan berhasil! Maka photoshoot di Opera akan memberikan kesan yang cantik, klasik dan mewah.
Galleries Lafayette dengan kubah kaca nya yang sangat indah merupakan toko perbelanjaan kelas atas, tepat berada di belakang Opera. Kita juga bisa naik sampai ke rooftopnya untuk menikmati pemandangan Opera Garnier dan Eiffel tower yang menakjubkan dan atap atap hausmanian Paris disekitarnya.
---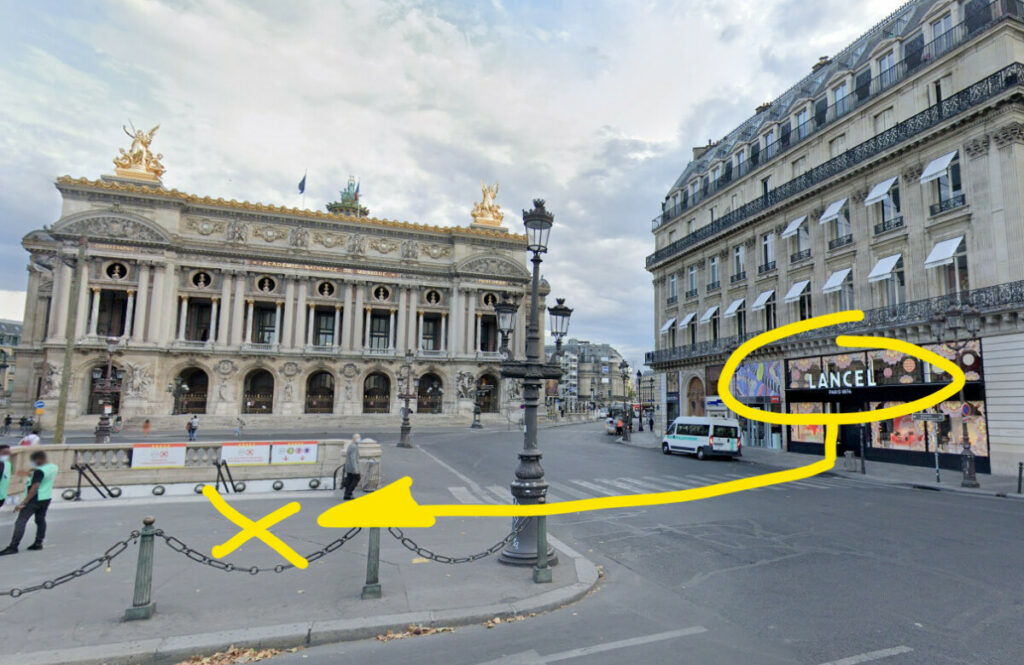 Titik bertemu!
Keluaran stasiun Metro, tepat didepan Opera, dengan Toko Lancel disisi kanannya. (Dari dalam metro Opera, ambil pintu keluar no 1). Pintu keluar yg lain berada di sisi seberang jalan.
Saya pilih titik temu yang gampang dikenali, sehingga appointment kita tidak terlewatkan.
---
Pick a date!
Which photo-session is really up to you.
To take nice pictures takes time, to enjoy the walk, and appreciate the surroundings. And it is your holiday in Paris. You've come all the way here, so might as well enjoy the photo session and the scenery.
And moreover, a photographer always take you to the best spots.

So here are some suggestions from previous sessions around this place :
Hanya opera saja, pilih sesi 2 jam. Kalian juga harus membeli tiket masuk di sana.
Bila kalian ingin juga ke Galeries Lafayette rooftop, lebih baik ambil sesi 2 jam 30 min.
Mulai dari 325€, pilihan sesi photo bisa dipilih di kolom pemesanan dibawah
---