A quick 1 hour roaming around street photo
Notre-Dame de Paris is the cathedral at the center of Paris, on the Ile-de-la-cité island, where you can find the zero-point of the whole France. Notre-dame is the oldest and probably the most beautiful gothic church architecture in France. You can admire the huge rosage or stained-glass window which was there since 1160. The church became famous after Victor Hugo wrote the novel of Les-Miserables or the legendary Hunchback of Notredame.
Those of you who like street-photography, this area is a very interesting because every street corner has it's own charm. You can explore the old books stands along the Seine river, or the cafés or the small back alleys behind.
Route:
From our meeting point in St. Michel, we'll roam around the back-streets in St. Michel where you can see many restaurants and shops selling macaroons, falavel, greek-sandwich and also souvenirs! You can always come back there later. Because we will pass through and get the old-book sellers, the Shakespear & Co, and the Notredame church, which was on fire a few years back.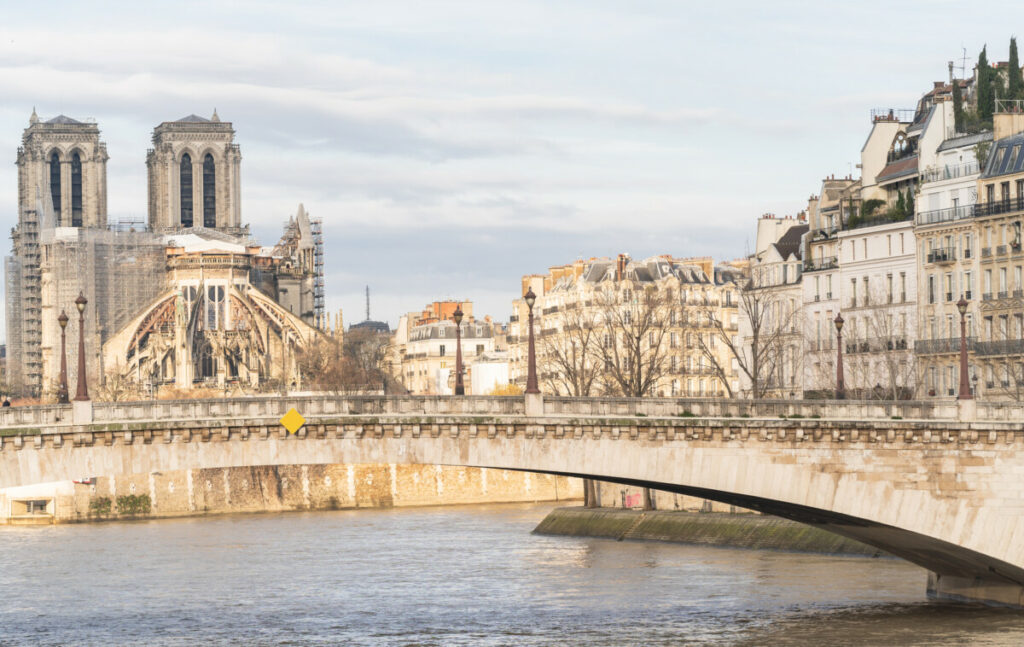 Notredame restoration
If you take picture with Notredame background today, many years from now, people will still be able to pinpoint the exact year from the progress of the reconstruction. Soon Notredame will get it's roof back, and the majestic flèche (steeple) later.
Then we'll take the way back probably through the seine-river bank and then through the small streets of St. Michel all the way back to where we started : Place St. Michel.
If you pick coffee-shoot, this is probably where I will leave you in a nice café around place St. Michel, or if you prefer, somewhere more quaint within the small back-streets of St. Michel.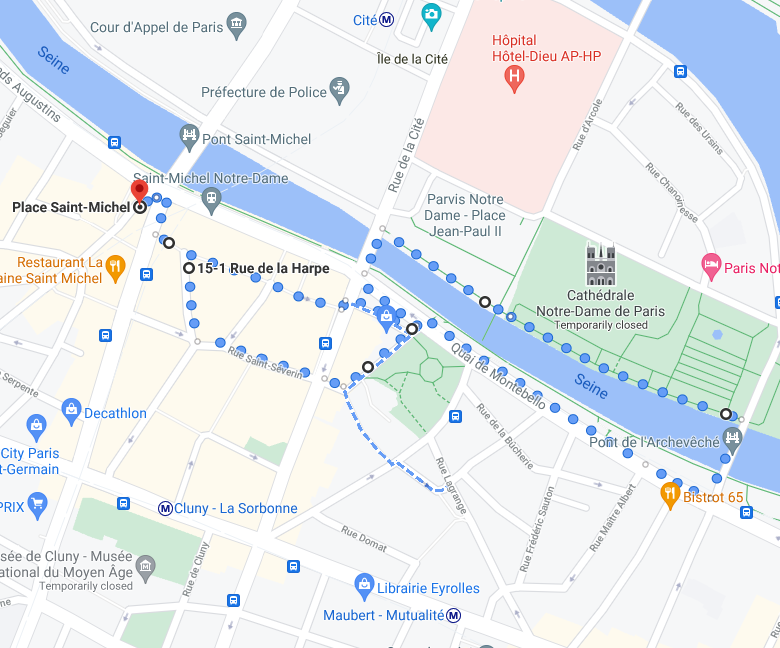 ---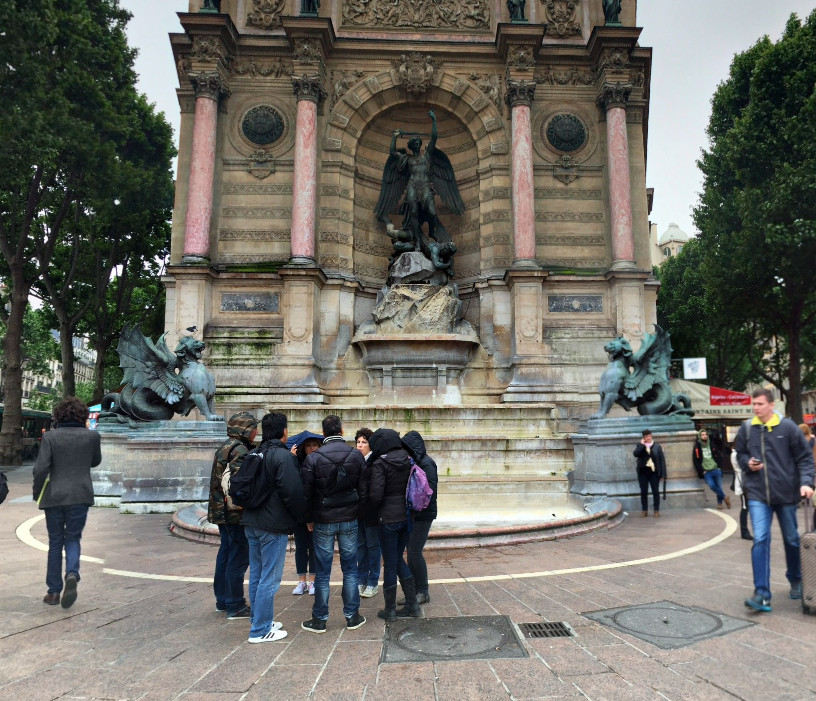 Meeting point!
Meet me at St-Michel Place, in front of the St. Michel fountaine.
Metro/RER St. Michel.
I pick you this easily identifiable spot so we don't miss the rendez-vous.
---
Pick a date!
1 hour should be enough for street photos, notredame, & probably until the café.
1 1/2 hour if you want more time with café or restaurant shoot. Latin quarter is famous for greek & mediteranean food : falafel, kebab, couscous, more on foods later.
Starting from 200€, more options in reservation below.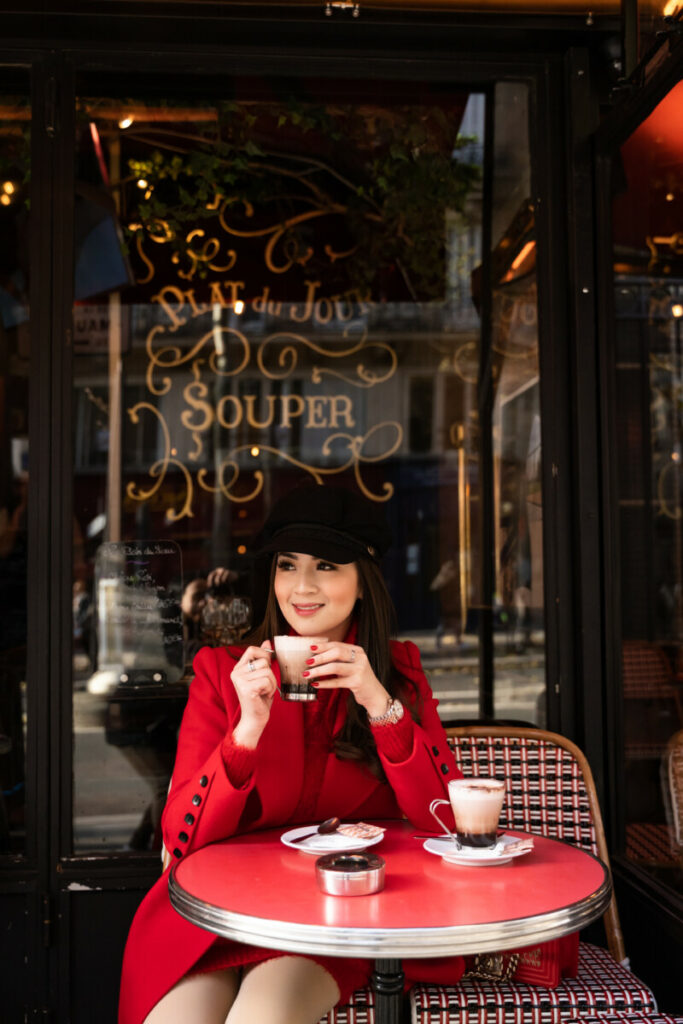 Parisien Cafe
Paris is also City of Café!
Let's pick a nicely decorated one, and hunt for that one and only spot worth fighting for.
There's no extra-charge for café photoshoot!
Just pick enough time so you can enjoy your time. Usually I suggest around extra 30 minutes at the end of the session (or before).
It's enough time for the walk, pick your seat, make orders, and by the time they arrive, I'll capture plenty of your memorable memories in my memory-card.
And then I'll leave you enjoying your café time.