The walkers route : Up and down the hill, through the old town.
About Montmartre
Montmartre is a quaint old town on the tallest hill within the city of Paris. It is therefore so protected from the traffic, and modernity. You'll get the feeling like going back in time and discover Parisian life way back then. There are many cafés and restaurants and art-galeries and souvenir shops over there. Not a long ago there were still painters who offered to paint or draw silhouette on Place de Tertre, before it now becomes open-air café and restaurants. Sometimes during summer you can still see artists do their stuff around that place.
Sacrecoeur is the basilica on the top of the hill. From there you can see the whole Paris as you are higher than the top of Eiffel tower.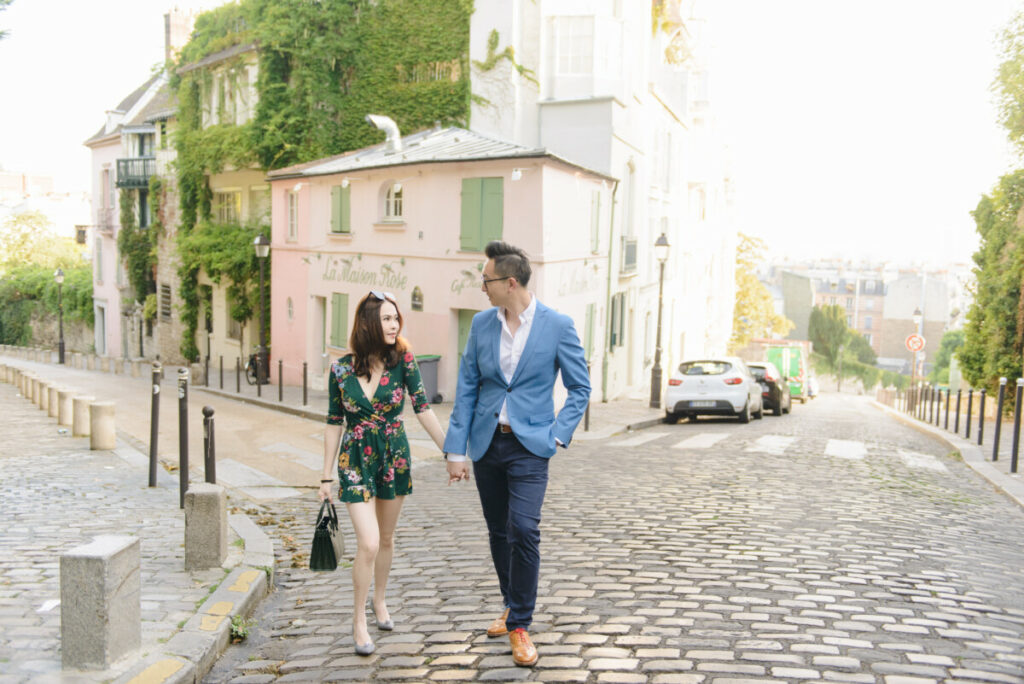 La maison rose
This pink small house is a restaurant that has appeared in several movies. Since then it has become the icon of Montmartre village.
To the right: the last vineyard in Paris.
Route
Meet me at the red-dot (In front of the Carousel) at the foot of Montmartre. We'll walk up the hill until the Sacrecoeur Basilica and from there through the Montmartre village, toward la maison rose, and all the way to the Lamarck metro station on the other side of the hill. We'll pass the last vineyard in Paris on the way. Lamarck station is also an interesting spot for photographers and cinéast because it offers a quite interesting view from above to the starways further down the hill.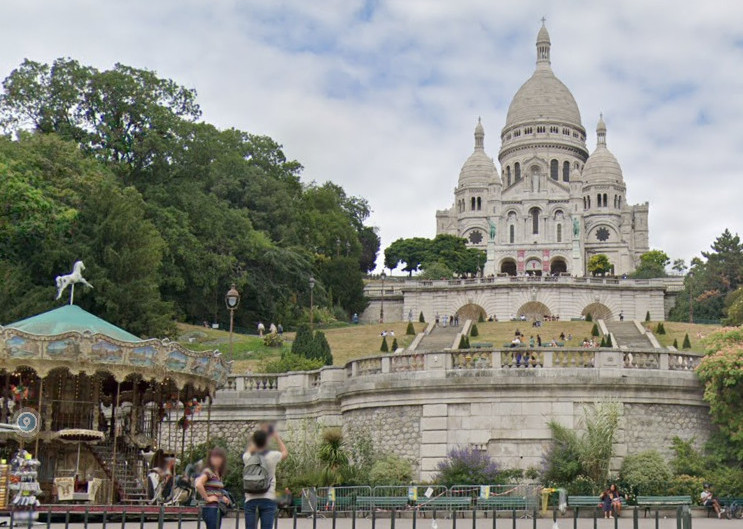 Meeting point!
Meet me in front of the carousel, under the Sacrecoeur.
Nearest metro is Anvers or Abbesses.
I pick this easily identifiable spot for you so we don't miss the rendez-vous.
Pick a date!
The whole path should take between 2 hours to 2h30, from the foot of the hill to the other.
If you prefer to enjoy more of montmartre (café etc) after the photoshoot, it's better to take the other sessions.
2 hours should make it from end to end and get the most "scenic" spots.
2h30 if you'd like to explore more the village on top of the hill, looking at the shops, etc.