Pre-Wedding photography needs special attention to details, a lot more preparations, the right equipment and certainly more time and attention to discuss with you to get it right : which locations, what time of the day, which pictures / poses do you like. Paris is a beautiful city, and there are so many other spots to get the special frame.
At the same time, there are things to take care of, which sometimes can be troublesome for foreign visitor. I want you to feel at ease, and focus on the photo session, so I decide to take care of them, for you.
Meal & Car included: Make your prewedding-trip easier!
I make this special Pre-wedding packages, especially for couple who come to Paris from overseas to simplify your trip.
I take care of transport by car, pick-up from hotel to the different photo-spots, so we can focus on the photoshoot sessions, which spots you'd like, which dress you'll be wearing, etc.
Ease-of-mind.
Transport is one of the stressful thing to organize for foreigners in France, loosing time in getting taxi and making the trip stressful and not pleasant. You don't need to think about this.
Safe and secure :
Because it's our private car, you can bring more outfits and leave belongings in the car.
Meal / Lunch is included!
A lunch break in local restaurant/cafe is included in this package so you don't need to think about it. At the same time, I know nice places around town that gives us opportunity to have nice cafe/restaurant shoot, and for you to taste local cuisine.
Make-up (MUA) and hairdresser: I can arrange if you need them (with supplement)
So with all that taken care of, let's discuss about the best locations, best time, and what to wear, what to bring, all the details are very important.
With me you got more than a photographer & videographer, you got a friend that can take care of you during your prewedding trip di Paris.
Delivery ?
I'm glad you ask :
When we leave the location after the photoshoot, actually the other half of my work has not even started yet.
For one week I will be selecting, editing and color-adjusting the pictures to give you the best photos: This is also the service that is included in what you pay for. So considering all and all, it's a fair price.
IF you need a few images quickly (for instagram or facebook) let me know, so I can send you within a day or two a few pictures for your posting.
All Pictures delivered!
I give ALL the nicest pictures edited taken during photoshoot, usually more than 100 per hour photoshoot. Edited picture in High Resolution. So you can print it big size for your wedding day.
Delivery of the edited pictures will be in two weeks, using online transfer.
Nicely Compiled Video with music
I will compile the video clips taken during theses sessions into a nice final result of 3-5 min video in 1 month editing time.
Halfday Prewed InMyCar
4-5 hours shooting with car, hotel pickup included, cover up to 5 locations in Paris
No more worry about the wheather and trafic during your session.
Up to 5 best locations in Paris : Eiffel, Arc de triomphe, Alexandre III Bridge, Louvre, Palais Royal, Notredame or Montmartre, etc
Optional : cafe photoshoot (consumptions not included)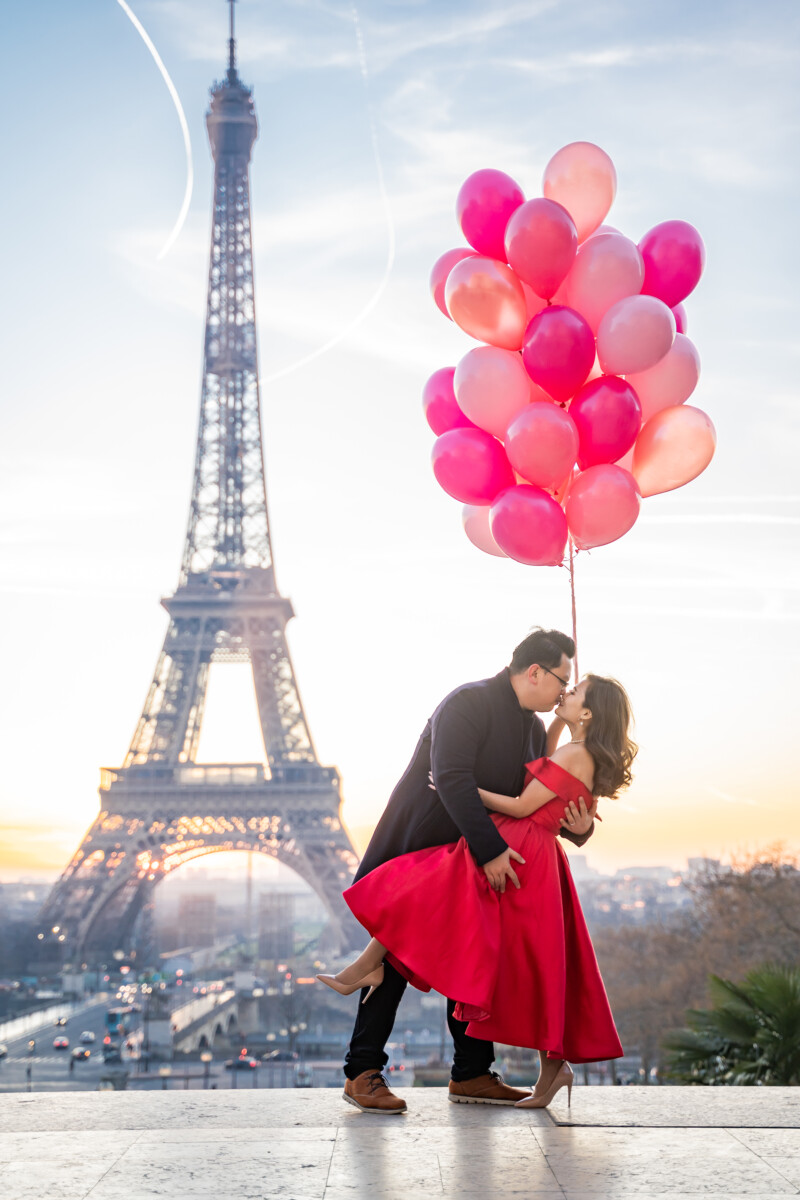 Fullday Prewed InMyCar
8-9 hours shooting with car, hotel pickup included, cover up to 8 locations in Paris
No more worry about the wheather and trafic during your session.
Eiffel, Pont Bir Hakeim, Arc de Triomphe, pont Alexandre III, Concorde, Louvre, Palais royal / pont des Art, Notre dame or, Montmartre
Lunch included (Cafe/Rest photoshoot)
Night Photo at Eiffel or Louvre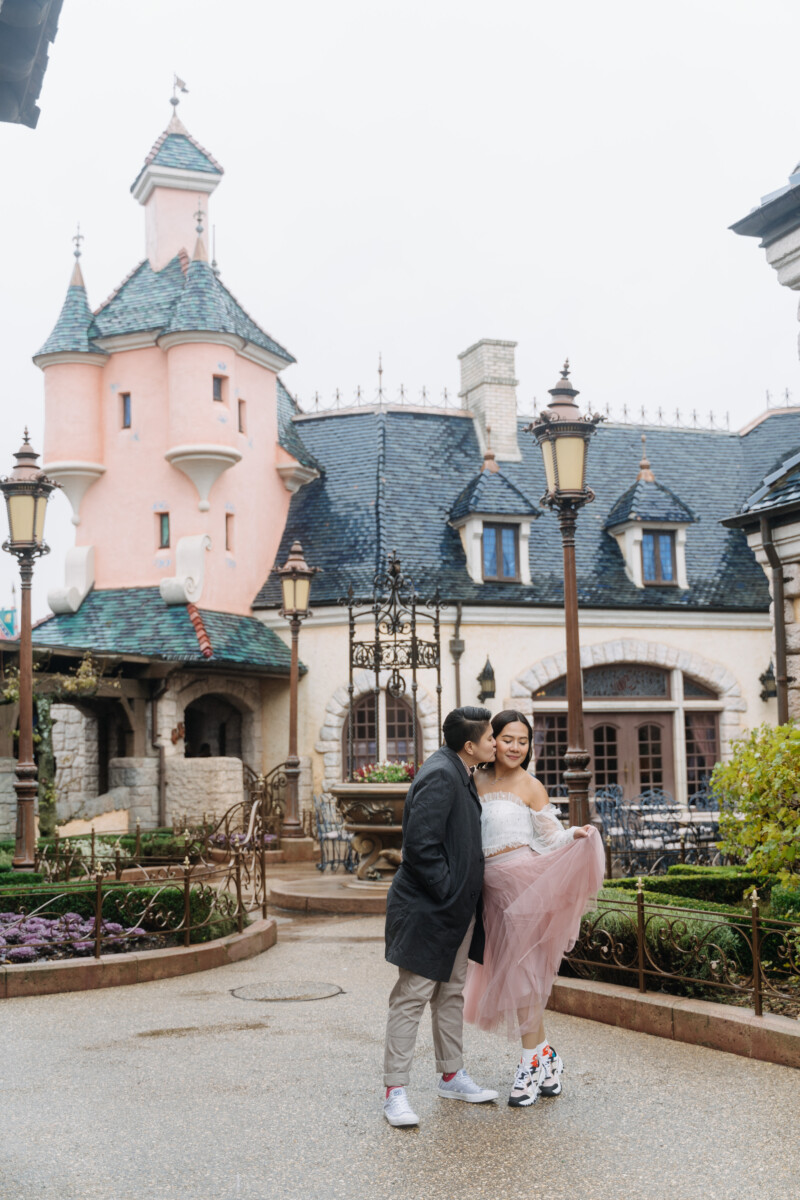 Outside Paris InMyCar prewed
8-9 hours shooting with car, hotel pickup included.
Cover 1 or 2 castles out of Paris, we can compose from these choices :
Disneyland or
Versailles or
Chantilly castle or
Fontainebleau or
Vaux de Cernay Abbey or
Maintenon castle or
Pierrefonds castle
Lunch included in local restaurant/cafe.
Entrance fee / photo-permits not included.
No more worry about the wheather and trafic during your session.
Lavender All-In (summer Prewed only)
Location at Valensole, Periode July 1-15th only, Two-half day shooting at Lavender, sunflower, wheat fields, and provencal villages.
Sunrise or sunset photoshoot.
To make things simpler, I included for 2 persons: Roundtrip Train ticket from Paris to Aix En Provence.
Pick up and transport to/from Aix Stations and around Valensole fields.
1 night/ 1-2 rooms hotel included in / around Valensole.
2 x meals during / after the photo-sessions.
(Valensole is an agriculture area, so we take care of trip/meal/accommodation to make it simpler for you, as not to miss the sunrise and sunset moments).
This is limited session, specially for prewedding project in Valensole, so start to make a plan and book your session from now if you have plan to visit France next summer.
(price may change due to high season. Book early!)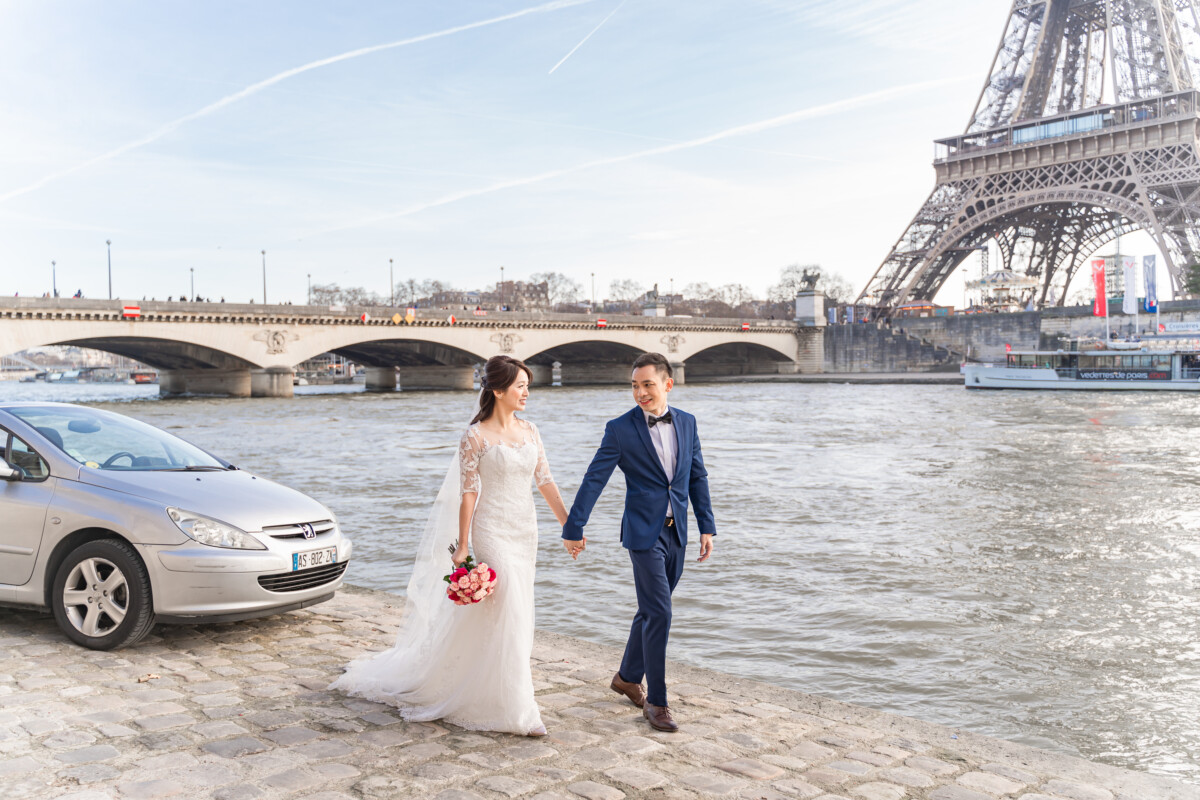 Two days Paris, Versailles & Castles Prewed
We are based in Paris, so all Paris, Versailles or other castles around are available to you.
2 days shooting with car, hotel pickup included, cover up to 8 locations in Paris
First day in Paris: Around Eiffel (trocadero, Bir Hakiem bridge, debilly, Camoen etc), Louvre, Alexandre III bridge, Pont des Art bridge, Palais Royal, Arc de Triomphe, Notre-dame, Latin Quarter, Luxemburg garden or Tuilleries, Montmartre. (Night photo around Eiffel)
Second day: trip outside Paris : Versailles palace, Chantilly castle, Fontainebleu, Vaux de Cernay, Royaumont Abbey, etc.
2 Lunch included, giving opportunity for cafe shoot.
So this is my advice:
Book the date first! It's important!
Even if you're still not certain about it, even if it may change later, it doesn't matter, we can always change it.
But if the date has been taken, it's more complicated to change that.